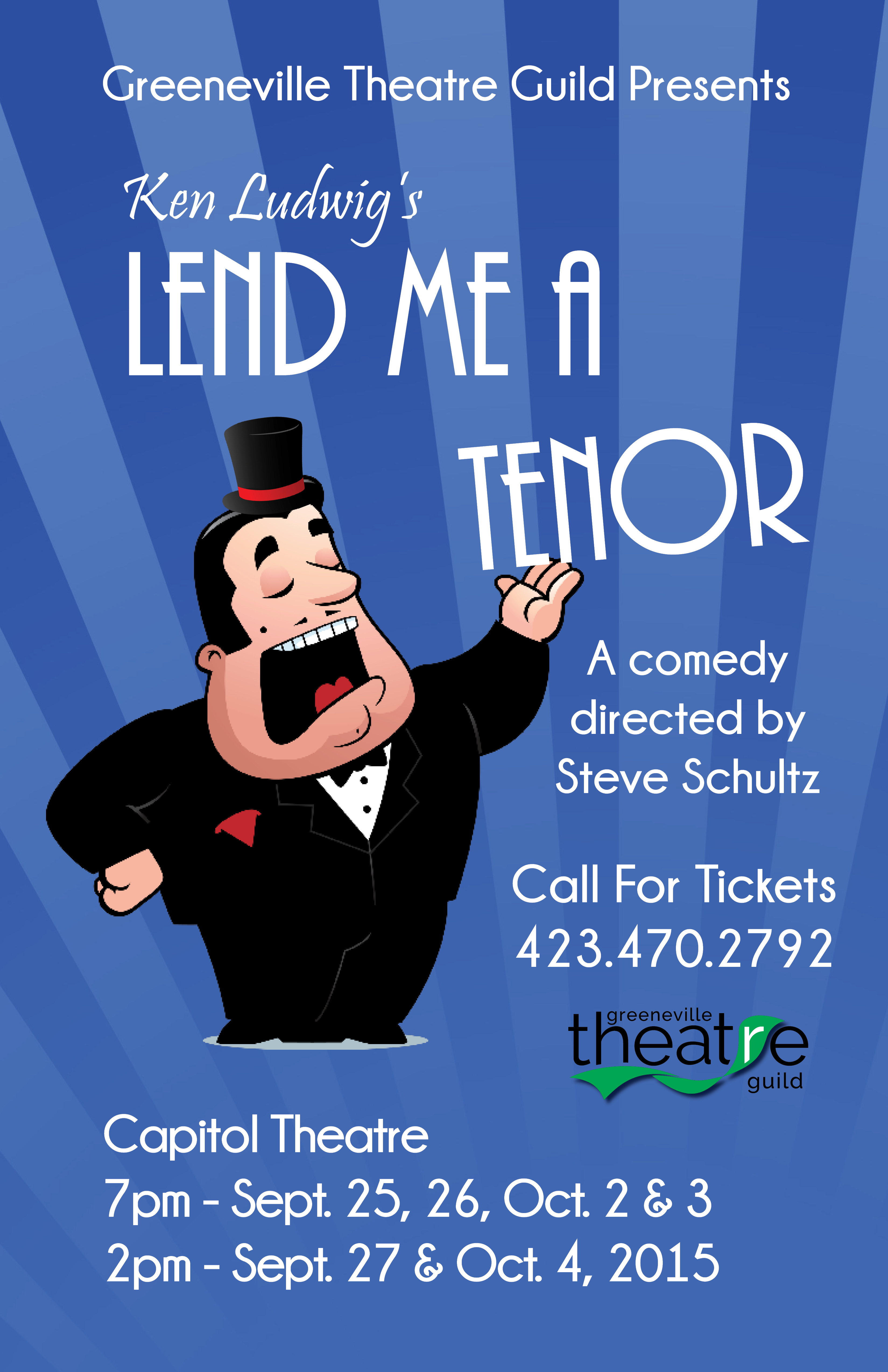 LEND ME A TENOR
Lend Me A Tenor is set in September 1934. Saunders, the general manager of the Cleveland Grand Opera Company, is primed to welcome world famous, Tito Morelli, Il Stupendo, the greatest tenor of his generation, to appear for one night only as Otello. The star arrives late and, through a hilarious series of mishaps, is given a double dose of tranquilizers and passes out. His pulse is so low that Saunders and his assistant Max believe he's dead. In a frantic attempt to salvage the evening, Saunders persuades Max to get into Morelli's Otello costume and fool the audience into thinking he's Il Stupendo. Max succeeds admirably, but Morelli comes to and gets into his other costume ready to perform. Now two Otellos are running around in costume and two women are running around in lingerie, each thinking she is with Il Stupendo.
P E R F O R M A N C E   D A T E S
Sep 25, 26; Oct 2 & 3, 2015
@ 7pm
Sep 27; Oct 4, 2015
@ 2pm
L O C A T I O N
Capitol Theatre
104 S. Main Street, Greeneville, TN 37743
D I R E C T I O N
Director: Steve Schultz
C A S T
Max ... Chris Graf
Maggie ... Erin Hensley Schultz
Saunders ... Bill Campbell
Tito ... David Hutton
Maria ... Christy Hoeke
Bellhop ... Wyatt Farr
Diana ... Melanie Yodkins
Julia ... Cathleen Charleson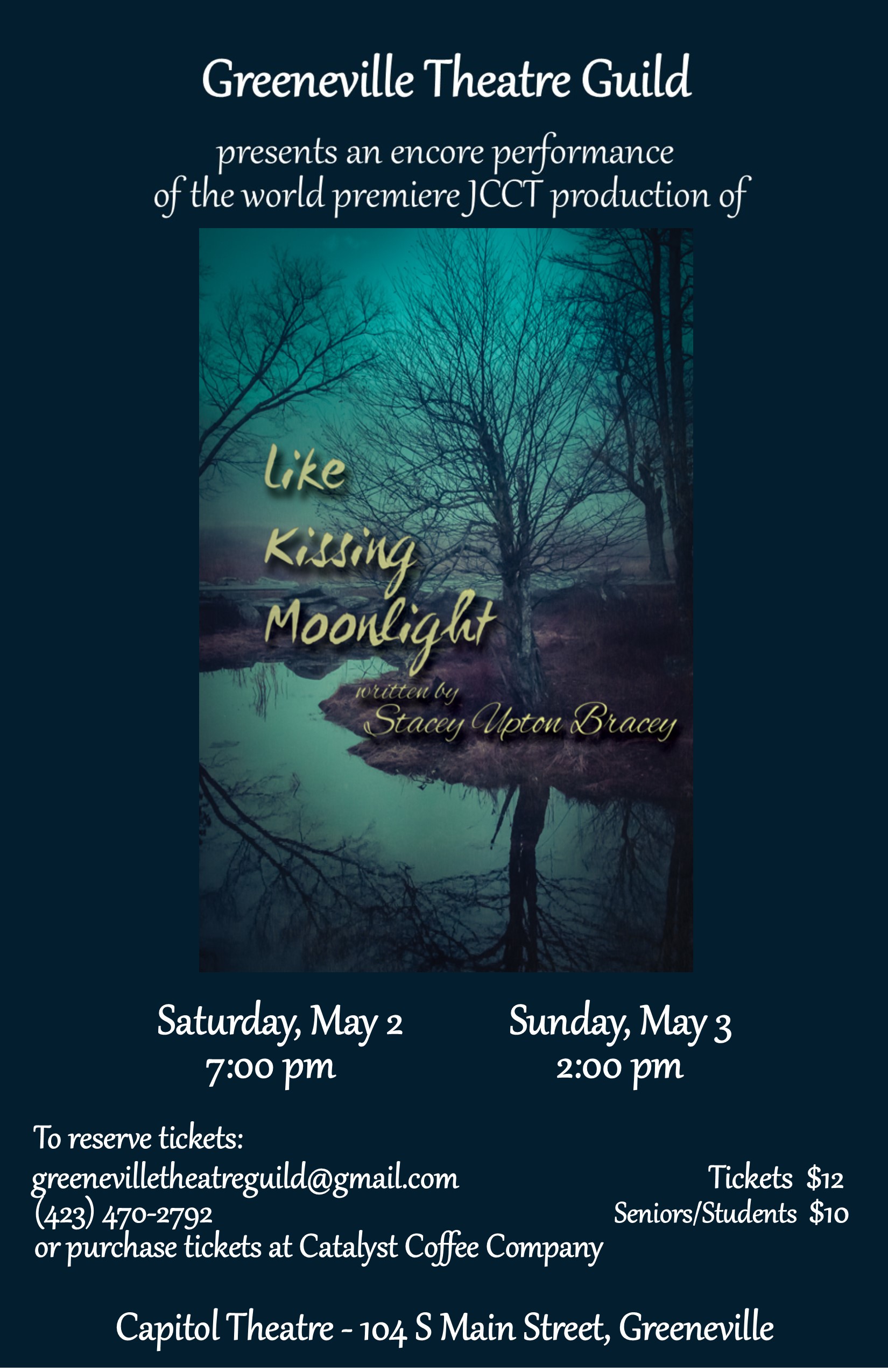 "LIKE KISSING MOONLIGHT"
2 Performances Only
Johnson City Community Theatre brings their new heartwarming and delightful family drama by Stacey Upton Bracy to Greeneville.  It is a story perfect for the whole family!
P E R F O R M A N C E  D A T E S
Sat May 2, 2015
@ 7pm
Sun May 3, 2015
@ 2pm
L O C A T I O N
Capitol Theatre
104 S. Main Street, Greeneville, TN 37743
D I R E C T I O N

Written by Stacey Upton Bracey
Director: Stacey Bracey
C A S T
Berry Lee ... Paige Mengel
Dale Lee ... David Hutton
Monica Lee ... Joy Nagy
June Nave ... Emily Nagy
Jem Nave ... Hunter Hall
Crystal Grant ... Melanie Yodkins
Pastor Bob ... Larry Bunton
Euphazine Lindsor ... Karen Mabe
Talton Demerest ... Matt Quick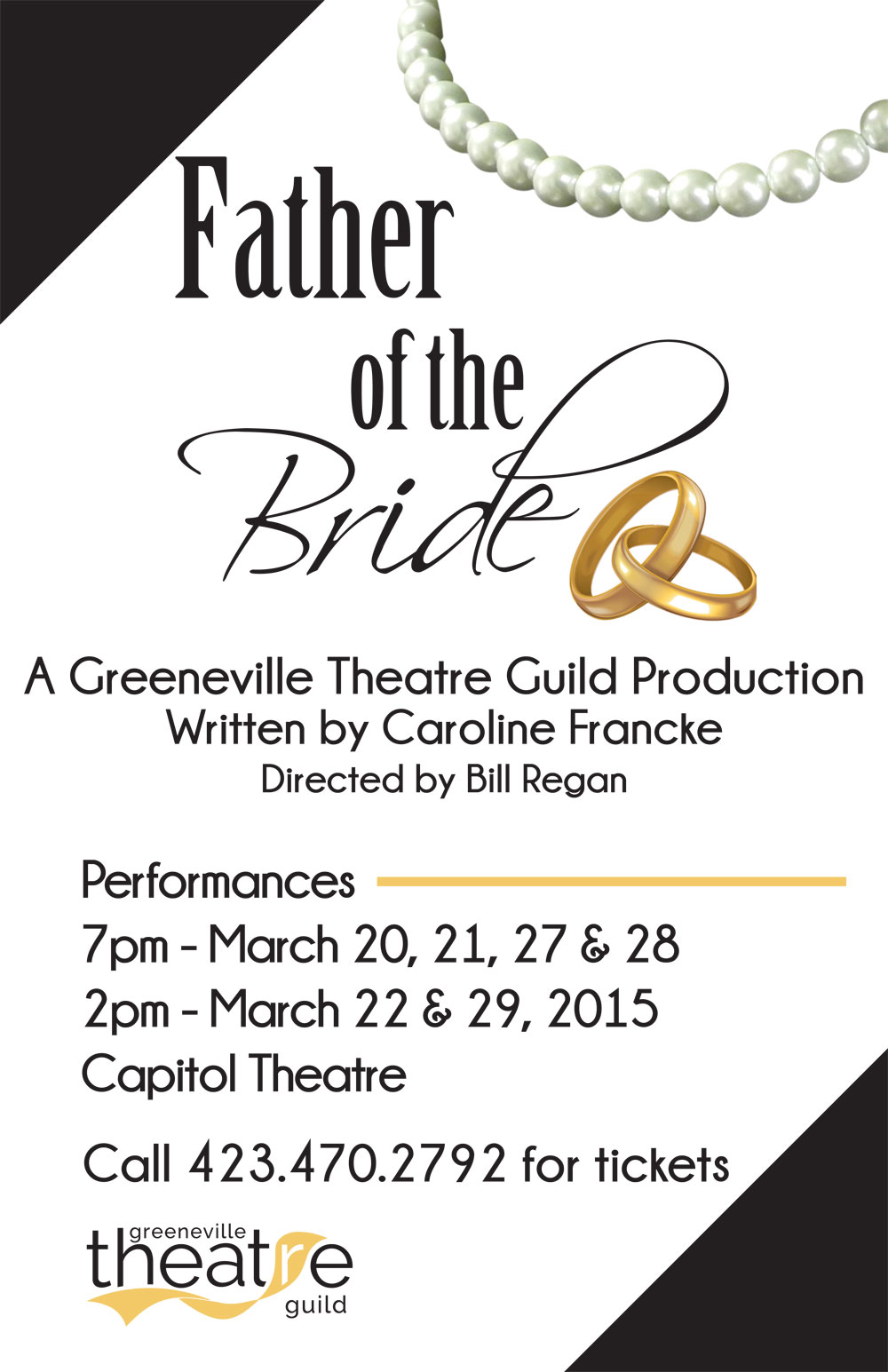 FATHER OF THE BRIDE
Father of the Bride is the Greeneville Theatre Guild's inaugural production!
Father of the Bride - A play depicting the preparation for the wedding of Kay Banks to Buckley Dunstan.
Mr. Banks learns that one of the young men he has seen occasionally about the house is about to become his son-in-law. Daughter Kay announces the engagement out of nowhere. Mrs. Banks and her sons are happy, but Mr. Banks is in a dither. The groom-to-be, Buckley Dunstan, appears on the scene and Mr. Banks realizes that the engagement is serious. Buckley and Kay don't want a "big" wedding just a simple affair with a few friends! We soon learn, however, that the "few" friends idea is out. Then trouble really begins. The guest list grows larger each day, a caterer is called in, florists, furniture movers and dressmakers take over, and the Banks household is soon caught in turmoil.
P E R F O R M A N C E  D A T E S
March 20, 21, 27, 28, 2015
@ 7pm
March 22, 29, 2015
@ 2pm
L O C A T I O N
Capitol Theatre
104 S. Main Street, Greeneville, TN 37743
D I R E C T I O N
Written by Caroline Francke
Directed by Bill Regan
C A S T
Mr. Banks ... Josh Beddingfield
Mrs. Banks ... Sandy Nienaber
Kay Banks ... Hadley Parker
Ben Banks ... Brandon Moorman
Tommy Banks ... Carter DelSorbo
Buckley Dunstan ... Matt Ripley
Peggy Swift ... Angela Willis
Buzz Taylor ... Kinner Flaglor
Delilah ... Katherine Dooly
Miss Bellamy ... Cathleen Charleson
Mr. Massoula ... Jeff Ward
Miss Josephine ... Jessie Beth Miller
Mrs. Pulitzki ... Patsy Fuller
Red ... Don Rozar
Pete ... Michael Fillers
Tim's Woman ... Bree Masters